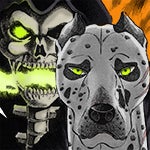 Nice page!
(I've been translating the Russian arc, and the way Lydia speaks is very feminine. It looks like she's getting more masculine as the series progresses.

)
Oh wow, you're right, she did! xD Should I fix that somehow in english? Like maybe it'd be "I'm no mister!" or .... something -thinks-
Oh yeah, true. With the bit I've read, she seems really proud to be feminine in that arc ... strange that that changed over time when all that happened was her spending more time with Jerome o-o; compared to.... the hundreds of guys she was around in the Russian arc lol confusing.
Nah, I think you're fine. Unless you can find some way to make Lydia sound like a man.