Post by kaiju on Mar 30, 2014 12:35:01 GMT -7
After reading some comments on Chapter 28, it sort of made me wonder about Cross as a character and her role in GNG, so I am making this post to try and figure out how she fits into the story. This is a very poorly written rant and I am so sorry.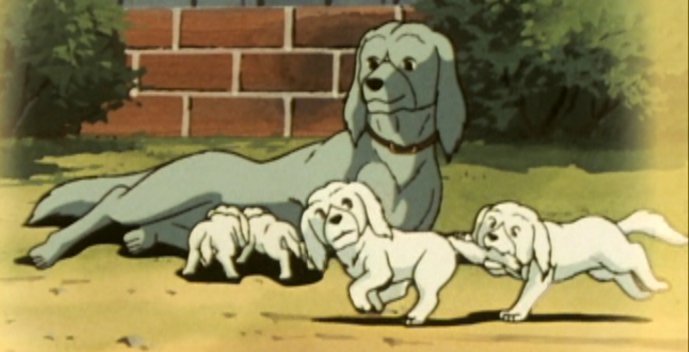 Cross has always sort of confused me in the way that Yoshi didn't seem to know what he wanted to do with her as a character.
When we first meet her, she seems strong, brave and is praised for being an talented hunter. Being the only female in the pack, one could assume she must have good enough fighting skills to even be considered into the pack after she became a stay. Cross has even fought a bear in defense of her old owner. So overall, she seems like a good female character when we look at her briefly, but her actions reduce her to merely a token plot devise.
In one of the only fights we see Cross in, she does extremely poorly, getting pinned and becoming useless nearly as soon as the fight starts against the Kai. But why? Besides being a more slender breed, Cross has fought bears, presumably other dogs and should be strong due to her hunting for the pack. Yet she can't do anything against one male dog. To me, this makes little sense, and the excuse used is "She is female", but this makes no sense when we look at the fact she is a trained hunting dog, just like John, yet is much much weaker and less competent in a fight then any other dog in the army (besides maybe Hyena) despite her agile-ness during hunting and her training. Being female might make her slightly smaller, but shouldn't affect her to THAT degree. Some could suggest it is because she is pregnant, but it is unclear if she is at this point in the manga if she even is. Mathematically as littlekistune1 pointed out
here
she must have been pregnant during this fight, yet her pregnancy doesn't even come into play until she is being harassed by three males much later in chapter 28. But if pregnancy WAS making her useless later in the comic and she wasn't pregnant during the Kai fight(which is unlikely), then why is she such a bad fighter in the early volumes simply because she is female?
In Chapter 28 and onward, Cross becomes utterly useless, granted, I understand why after having the puppies, but even before then she basically lays down and nearly lets herself get assaulted because "Oh no I am pregnant what ever can I do?" and a dachshund has to save her in chapter 28. Maybe she didn't want to risk damaging her unborn, but if this was the case why did she get into a fight with the Kai? Dogs begin to start showing the symptoms Cross is describing in chapter 28(teats showing) about 14-15 days after becoming pregnant. In theory, this would make sense, Ben has been gone for two weeks. BUT, Cross has the puppies in the next volume( I do believe), and almost two months did not go by in that time, so unless she had the puppies extremely early, Cross had to be pregnant long before she started mentioning it. So pregnancy wasn't, or shouldn't have been such an issue for her (I mean she has had puppies before, it's not like she is a new mother). In fact she could have been pregnant when she first met Gin, yet acts completely normal and hot headed, as said before, even getting into fights, so she obviously wasn't worried about hurting her pups.
So the only "excuse" it seems for her terrible fighting and uselessness is she is female. Even if all the evidence( trained hunting dog, only female allowed in the army, hunts for the pack, holds a high position and the rest of the males respect her) says she should be just as competent as any male.
As with many of Yoshi's female characters, they are only there to serve has A) Mother's to pups of main characters, or B) A way to drive the plot forward( mostly likely the female is in trouble and brave males have to save her).
All in all, I feel like Cross had a lot of potential at first, but was just reduce to a way for Ben to have a son for the next generation of the manga.